Hot off the Press: Koala for Marketers

Tuesday, November 7th, 2023
Today marks a new chapter of Koala. We launched Koala 1.0 just about a year ago with the vision of building the best-in-class tool for sellers to act on high-intent leads in their patch. As Koala has grown from dozens to hundreds to now thousands of active sellers, we've seen one pretty unexpected but common trend: marketing teams and founders get FOMO about what's happening in Koala and want to see for themselves. Here's how the conversation typically goes:
Marketer: woah this is AWESOME data, so so so helpful to see such detail!
... 10 minutes later ...
Marketer: I want to use this in all my reporting. Where's my top-level dashboard?
In this post, we'll cover five questions that we had about our business and how we used Koala Dashboards to answer those questions in seconds, without any SQL.
Question #1 - Are we consistently growing DAUs?
Background: Our current GTM goals are to continue to grow at 20% m/m for the next six months. Our first and primary goal when making any change is to ensure that we are providing daily active value to our customers, and that they choose to come back daily. I posed this question to the team when we first launched 12 months ago, and they built a v0 of Dashboards about a year ago that I've used daily to ensure that we continue to provide value to our users daily.
Here's what it looks like:

Exciting to see DAUs growing at the rate we want - now also ensuring that they are doing high value actions we've defined internally!
Question #2 - Are we growing awareness fast enough?
Background: We've been very dialed into the bottom of the funnel, as you can see in question #1, but we recently started wondering if we are feeding the top of our funnel with enough accounts.
Here's how:

By the way, when I first asked this question ~4 weeks ago, we weren't growing fast enough here (10% m/m), but once we realized a gap, we kicked things into gear!
Question #3 - Twitter or LinkedIn?
Background: Social is hard (especially for me 😅) – but what makes it easier is knowing the ROI is worth it. Personally, I'd like to spend my time doubling down on one fruitful platform instead of spreading myself thin across multiple. I've been posting about Koala on both Linkedin and Twitter, and I wanted to understand on a recent campaign which channel was more worth it.
Here's how:


Answer: LinkedIn! Matches my intuition given where our ICP lives, but good to know that LinkedIn performs approximately 4x better than X across both top of funnel and bottom of funnel metrics.
Question #4 - Who to outbound for user research?
Background: We discovered a few months back that our customers have surpassed us and are now better Koala users than we are (‼️). We look to our best users to learn from them and inspire the next few quarters of product roadmap. I like to interview our best customers.
Here's how: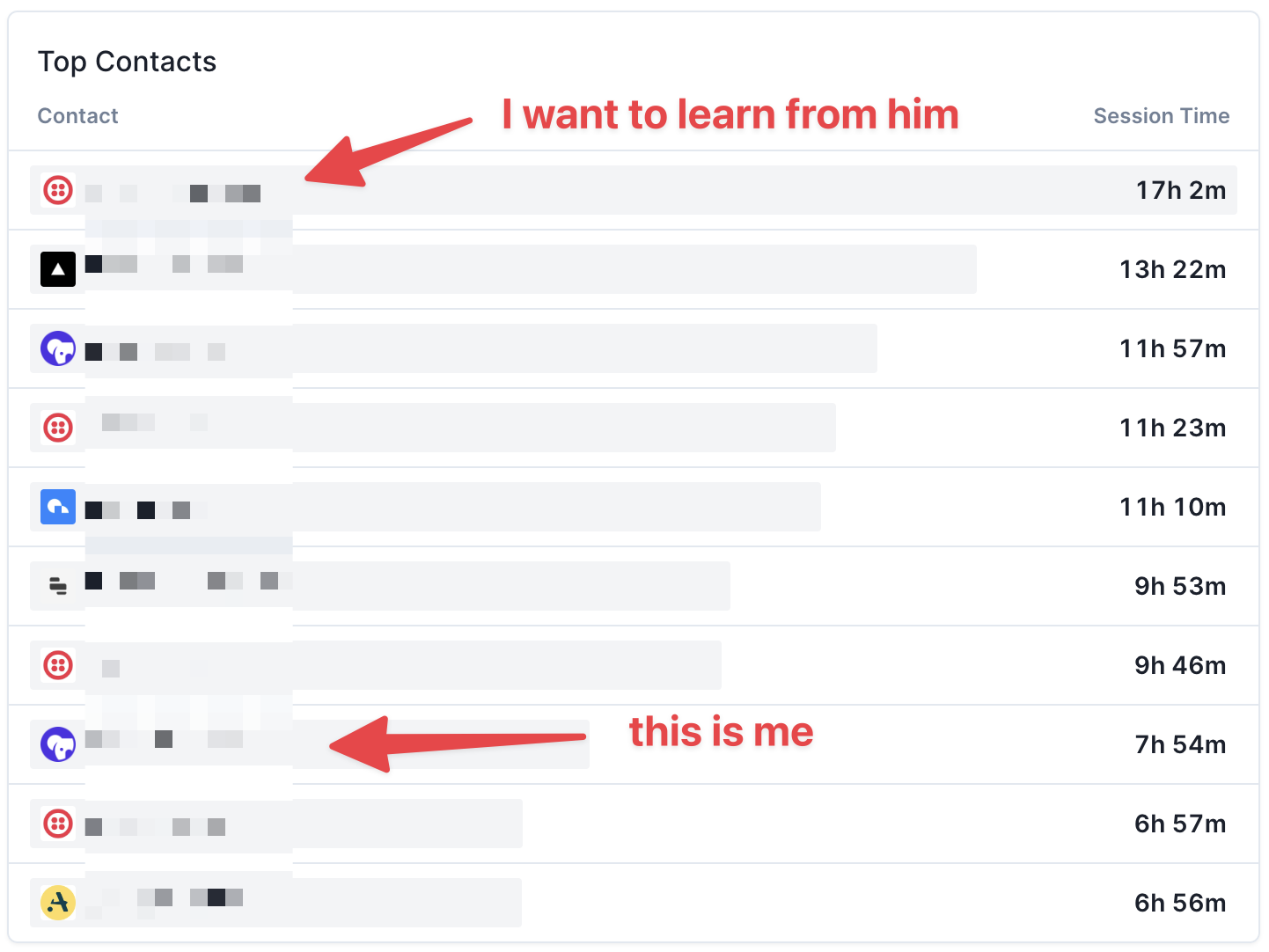 Turns out that there's someone who has spent 17 hours in the app over the last quarter! He and I now have a meeting next week — excited to share what I learn!
Question #5 - Is our /companies bet paying off?
Background: We recently opened up a free company database that allows people to find firmographic information about companies and also download CSVs of up to 10k companies. Our strategy around this was to provide value to the world in the hopes that we could help people with a slice of our data, totally for free. Our question: how is this new page performing?

When we first launched /companies, we used a version of the internal dashboard to catch a few people attempting to scrape the site. We have since added multi-tier bot detection, which ensures we're filtering out bots and serving real people. From there, it took a while before SEO started to kick in, but we now are driving more traffic to this page than our homepage. Love to see people taking advantage of our database!
Give it a spin!
If you're a Koala customer, you can give it a spin today. This week only, we're offering a free 90 day trial: https://app.getkoala.com/goto/dashboards
Feedback, questions, comments, or want to chat? Reach out to [email protected]