---
New Overview Page
Starting today, there's one more reason for your team to return to the Koala App every day! We're rolling out a brand new Project Overview page where you can see key metrics and insights about your Koala project.
The new Overview is also a launchpad for your most common Koala workflows, like tracking Accounts in your territory, or configuring new views.
Check the bottom of your overview for Account Insights: a new collection of widgets that show you new account audience ideas such as "Untracked Accounts", "Pricing Page Visitors", or "Surging this week".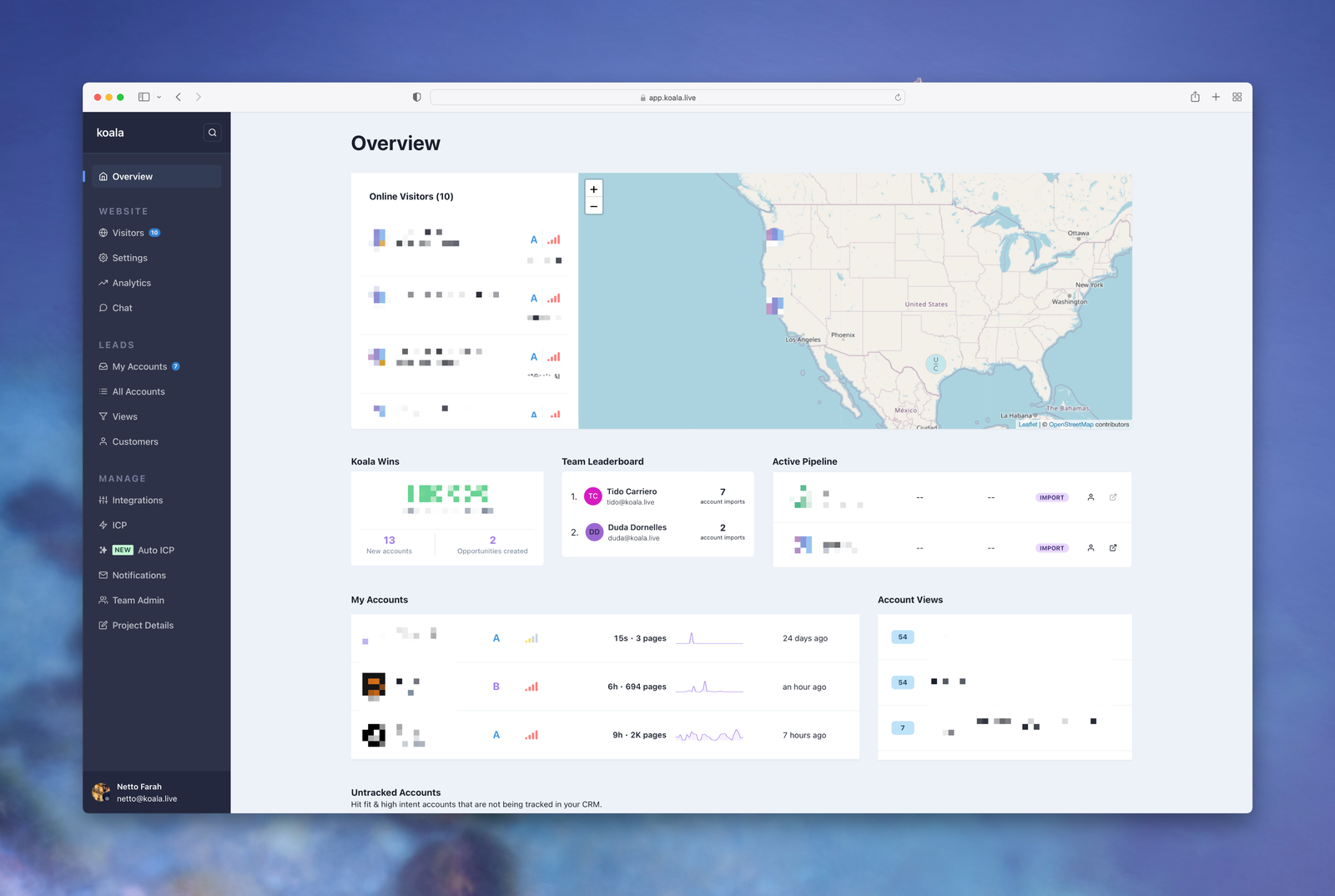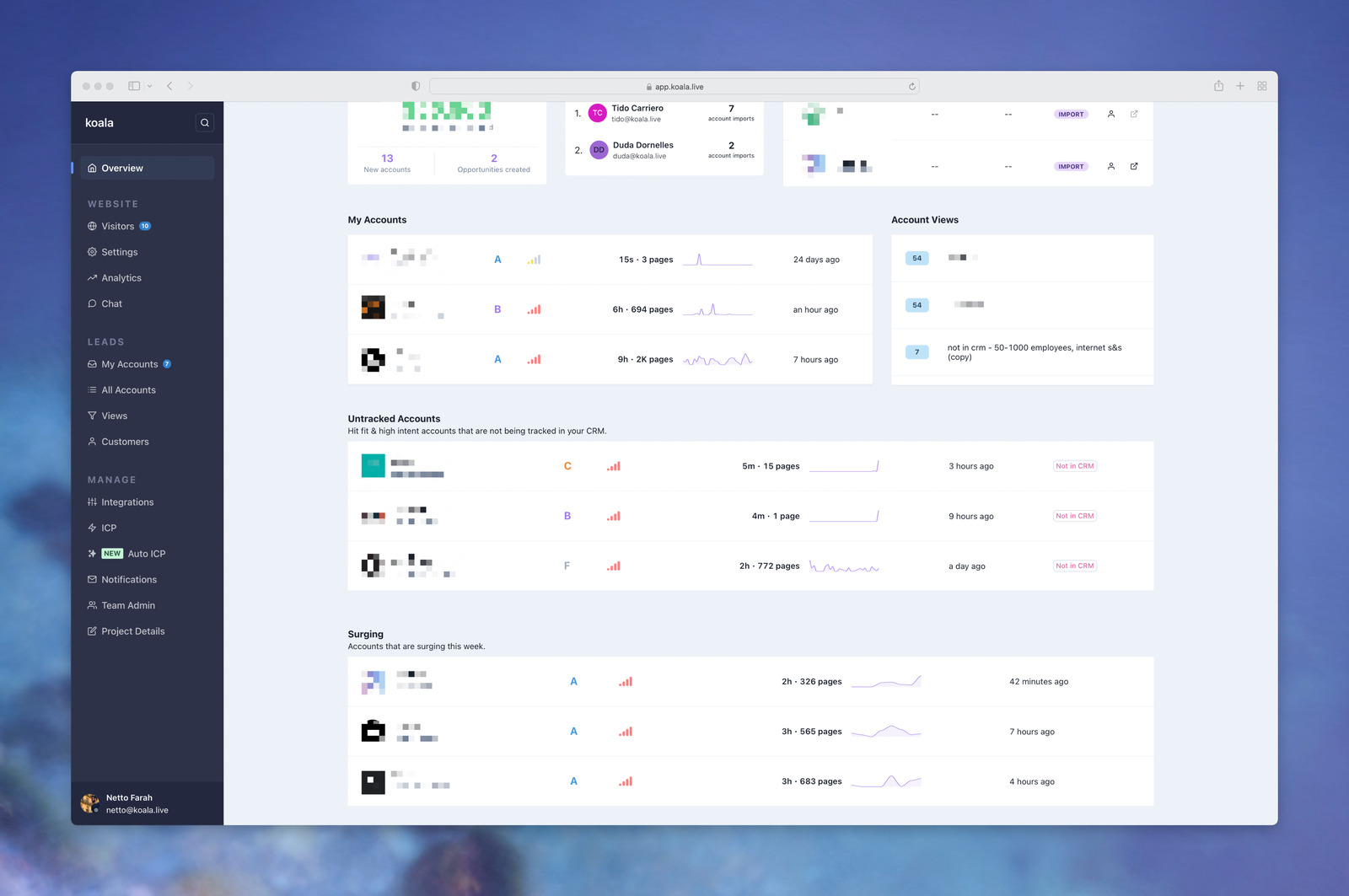 Account Actions Improvements
As Koala adds support to more integrations - learn more about the Outreach integration below! - the number of actions you can perform on accounts also grows. We've redesign our actions menu to support this:
Standardize shortcuts with a two key combination: shortcuts start with a key to identify the integration and the next key to identify the action
A new way for account admins to configure what actions are visible: Selecting "Configure visible actions" at the bottom of the action menu will take admins to a new panel where they can have a holistic view of what actions are available for all integrations, and enable or disable them.
Submenus per integration: see actions for all your integrations at once. And remember, admins can disable some of those actions if they don't fit your workflow!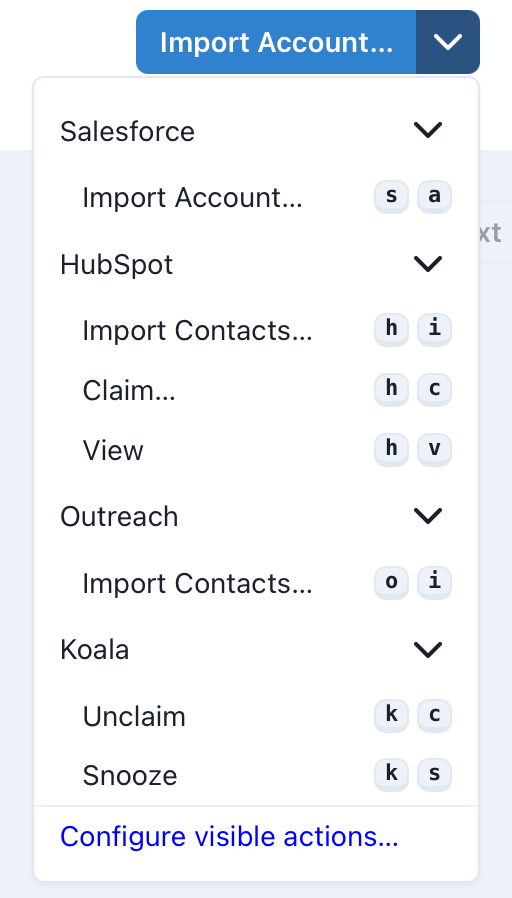 Fit + Intent Everywhere
We've continued to make refinements to the fit grade and intent scores throughout Koala. Now you'll find the fit letter grades on every account list, as well as the account details page.
We also rolled out a composite Koala Score™ that highlights how companies are ranked across both the fit and intent axes. You'll see this as a 5-point scale based on what percentile of fit and intent a given account falls within.

Work Email Filters for Accounts
Ever found an exciting logo in your Accounts List, invested time looking through the account activity to later on realize you were looking at student, or hobbyist visitor playing with your Product for a personal project?
We heard your feedback, and started rolling a brand new "Work Email Filter" that gives you the ability to filter out hobbyist and students from your views and cohorts.
Use this filter to select accounts and contacts that have entered their work email address.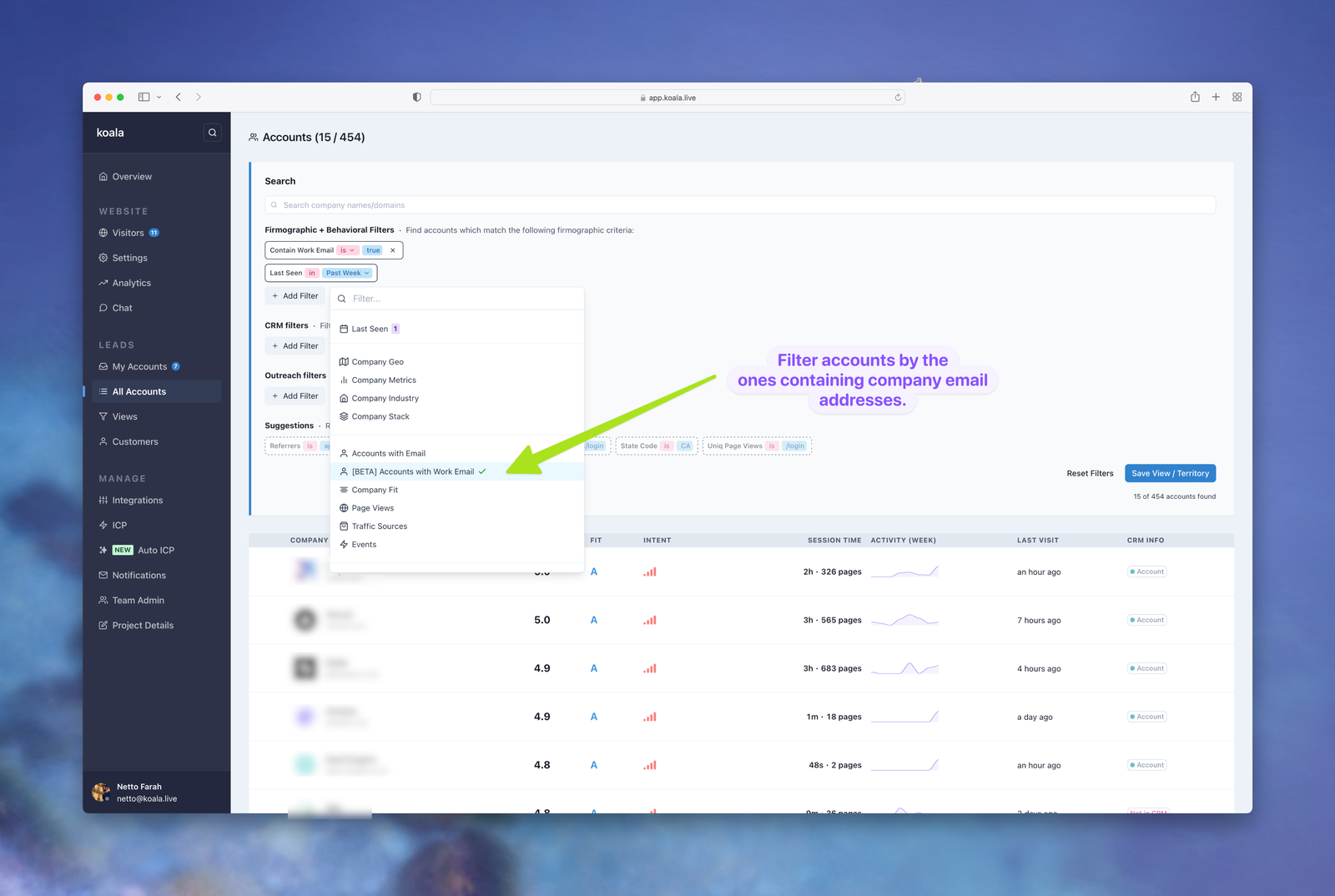 Outreach Integration
Our most requested integration is now live and ready to use! Thank you to all early partners who helped us design and ship the Outreach Integration.
We have shipped the 4 most requested workflows, and started on a brand new one that we're also pretty excited about. Right now you can:
Import Koala Accounts into Outreach
Import Koala Contacts into Outreach
Claim a Koala Account in Outreach
Open a Koala Account in Outreach via permalinks
Filter your Koala Views by Outreach filters
[Soon] Add an Account / Contact directly to an Outreach Sequence
[Soon] Automate tasks from Koala to Outreach.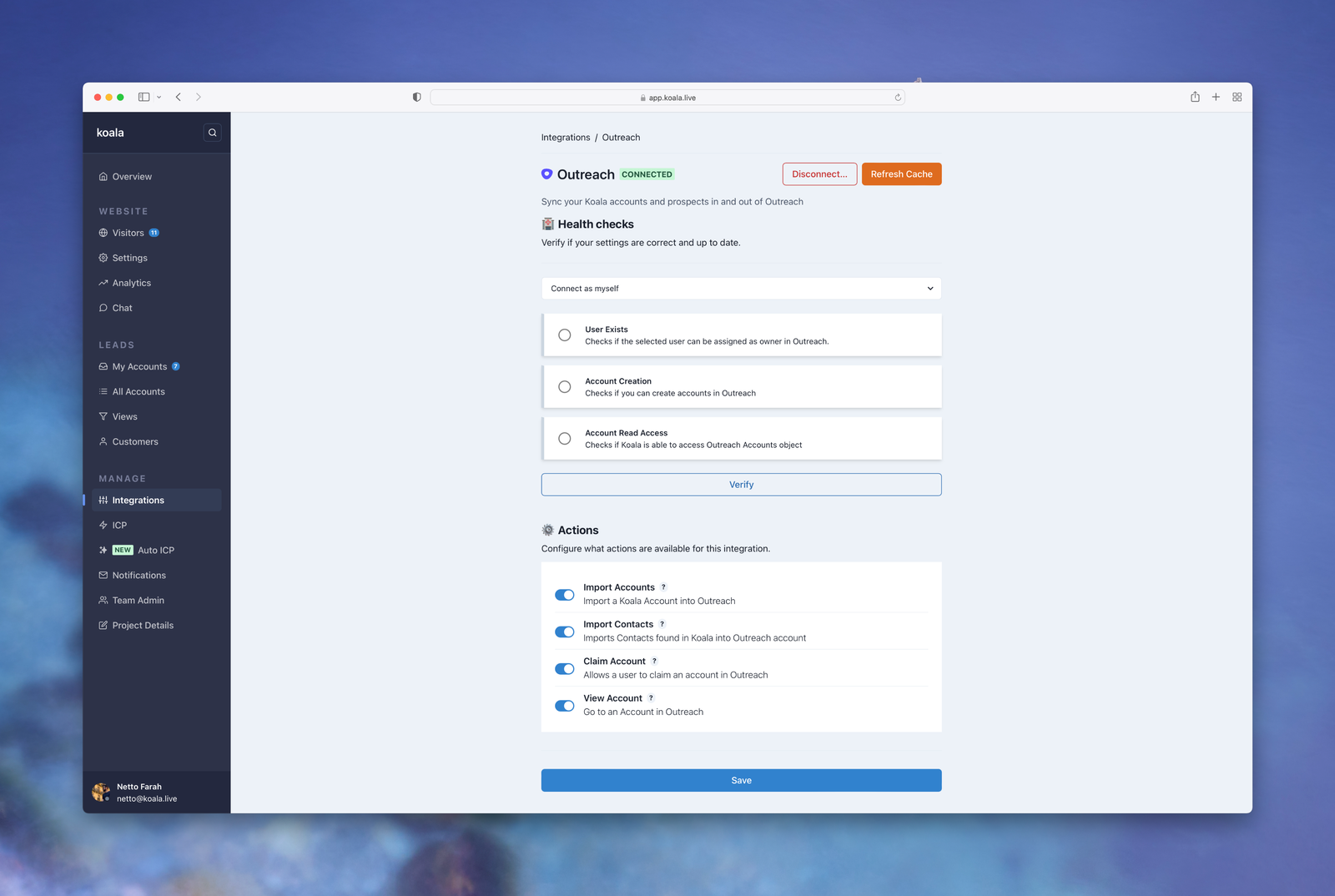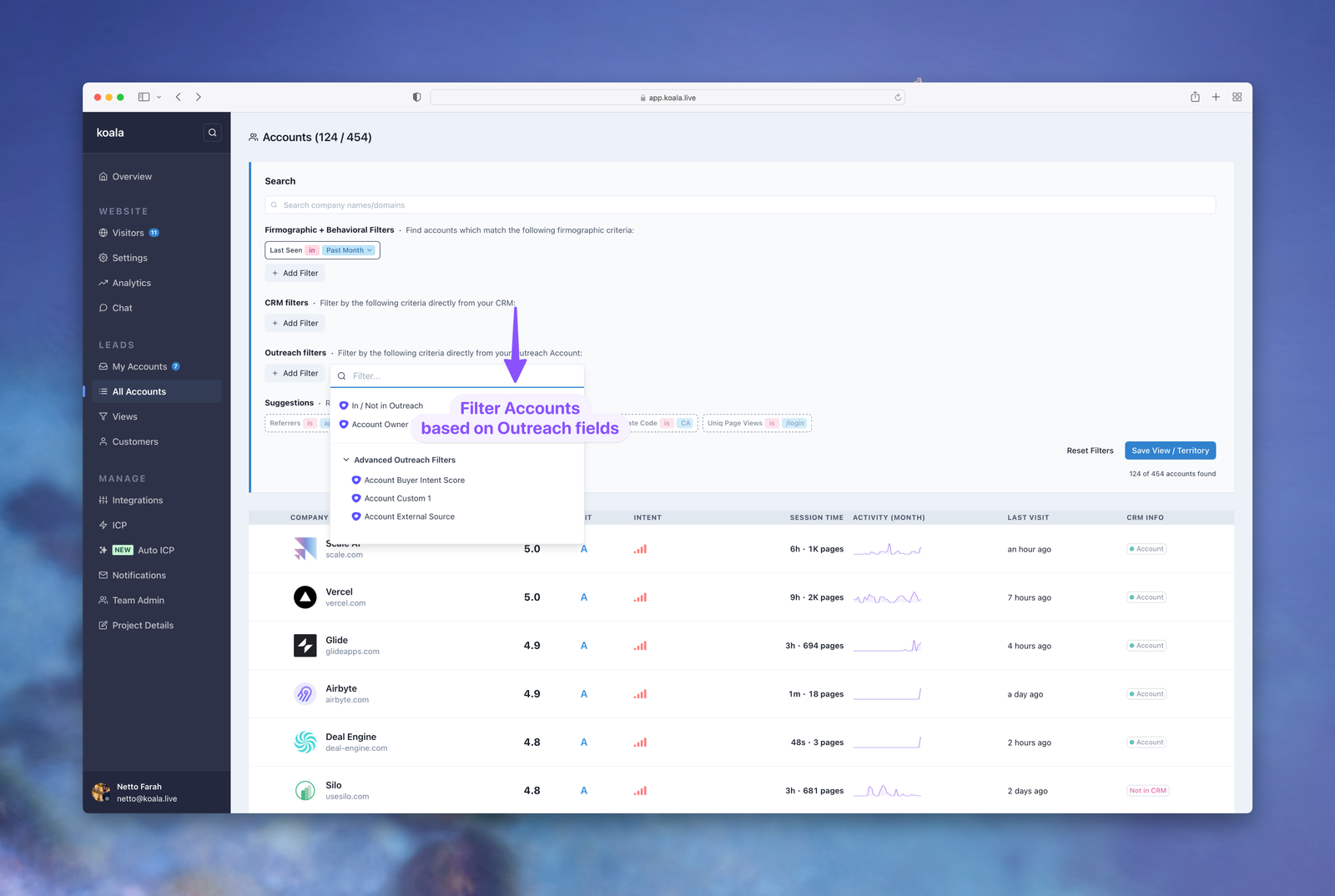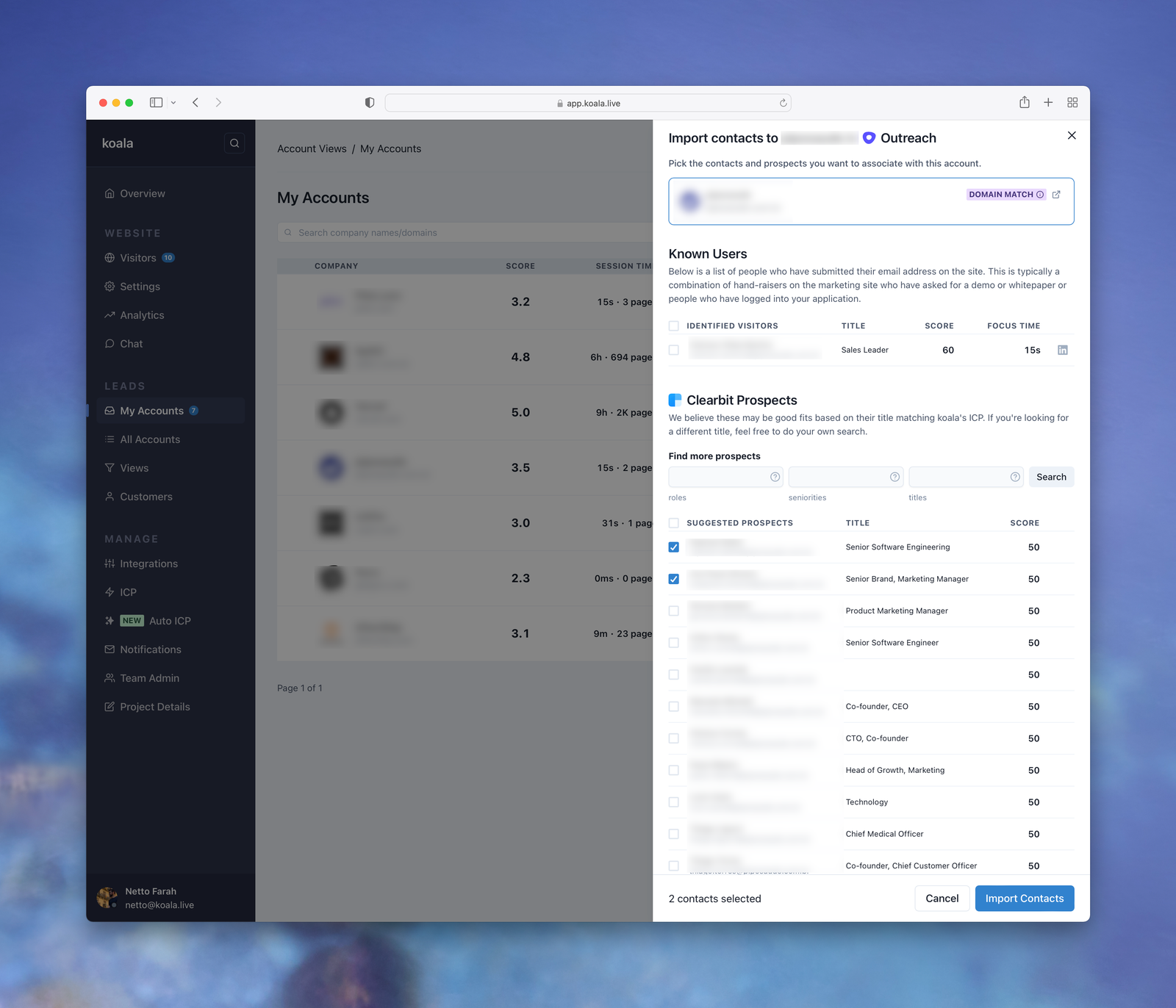 Improvements and Fixes
When Claiming accounts, users will see a confirmation popup showing who the current owner of that account is, and have a chance to cancel/confirm the action.